Space story beyond Covid-19 (P2)
"Most industry experts and commentators feel that with new services introduced by satellites and innovative applications, a huge market will open up in both the government and business sectors."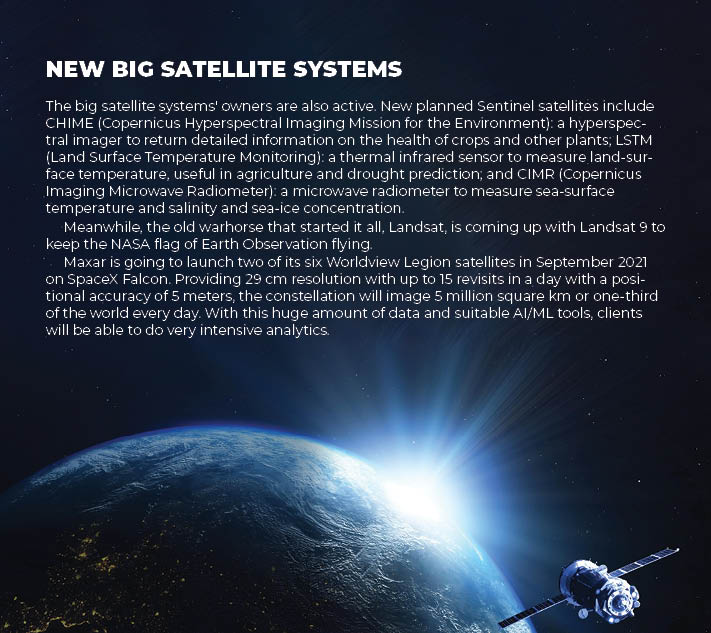 Analytics, the new oil
The geospatial industry is steadily transforming from a data-based paradigm to a solutions-based paradigm. Users do not have time to wait for data and then analyze it to extract the information needed. The pandemic has actually accelerated this process. It is not just EO or PNT data, but a whole plethora of data sources ranging from financial, social media to crowdsourced data obtained very quickly and analyzed almost in real time. The name of the game is analytics, supported by new technologies for Earth Observations.
"We are seeing just the tip of the iceberg when it comes to being able to make actionable insights from geospatial data," says Clint Crosier, Director, AWS Aerospace & Satellites. The more Cloud-based solutions are made available in near real-time, the more we will see enterprising companies develop new and exciting ways to use that data — from city planning and environmental monitoring to economic forecasting and fish and wildlife management, and everything in between. "When we can make large volumes of Space data available to customers and provide innovative, Cloud-based tools to help them make sense of that data, the result is innovative — new applications that can literally change the world," Crosier adds.
"There will be a much bigger focus on the end-user experience and streamlined integration of data services into the workflows of the customer. This will ultimately create more demand and drive innovation through an array of new applications," feels O'Toole.
NewSpace companies are well suited to address this paradigm shift as small satellite constellations provide more sensors. Improved global monitoring that provides insights or analytics as a service drives more demand for commercial data and monitoring services and provides improved situational awareness.
Banazadeh aims "to focus on the end-user experience". Capella offers the industry's first SaaSbased self-service tasking console for satellite image collection, enabling customers to task and collect images directly from the Capella constellation without delay or third-party interactions. This offering, combined with the company's network of ground stations and technology partners, cuts the image delivery time from days to hours, or even minutes.
Observing that SAR (Synthetic Aperture Radar) has also been historically difficult to purchase as an enterprise organization, and much more so as an independent academic or researcher, Capella's community is designed to put SAR data in the hands of those who are paving the way for exciting new use cases by developing AI/ ML applications.
Indeed, the demand for analytics is growing so fast that the industry is often not able to meet it. According to Tom VanMatre, Satellogic's Vice President of Global Business Development, "IoT, LBS, FinTech, Retail, Real Estate, Automotive, and many more industries are beginning to scale the adoption of imagery and geospatial derived analytics. With imagery as a foundation, companies are combining consumer mobility and data analytics through geospatial applications and innovative partnership models to deliver value-added B2B and B2C solutions."
Of course, with an industry growing so fast, and the demand for its services soaring multifold, some of the issues of the past are still left unattended. As Prateep Basu, CEO of SatSure, points out, "While there is definitely a lot of supply of high-resolution imagery in the market today, the interoperability among them, the pricing models and their availability are still issues that the industry is not willing to address beyond the government and defense market verticals."
In general, startups and small companies need to be agile and creative, and look for new markets and different business models. Use of advanced analytics will help make information more relevant to customers. The drawback is that EO data is difficult to share due to regulations and licensing terms.
"The geospatial industry is steadily transforming from a data-based paradigm to a solutions-based paradigm. Users do not have time to wait for data and then analyze it to extract the information needed. The pandemic has actually accelerated this process"
New technologies
The future is SAR sensing but with a caveat. Radar Remote Sensing is expensive. Though it is very useful for energy, agriculture, finance and defense, it requires government funding and applications. The challenges facing the world today, such as the pandemic and Climate Change, have pushed governments across the globe to expand and grow the SAR market much faster than before, but the commercial market is not ready as yet to invest in this technology.
While a few years ago one could almost count the number of commercial SAR satellites on one's fingertips, the most recent SpaceX launch alone has seen that number increase significantly. "We are seeing a golden age for SAR, and I expect it to keep growing — particularly for commercial use cases as the technology becomes more readily available. More satellites mean higher revisits and a higher frequency of information, resulting in better decision- making," says Banazadeh.
Capella has tough competition from its Finnish counterpart ICEYE, a pioneer in the smallsat SAR space. ICEYE was the first company in the world to successfully build a SAR satellite with a launch mass under 100kg in 2018. Since then, SAR startups have raised hundreds of millions of dollars for constellations. Other than Capella and ICEYE, Japan's Synspective and iQPS, and US' PredaSAR and Umbra Lab are all anticipating more demand for SAR data.
However, the key will be in multi-sensor fusion for Remote Sensing applications, which will be enhanced by higher accessibility and increased spatial and temporal resolution. One specific example, which ICEYE has demonstrated, is using SAR to visualize ships that have illegally deactivated their Automatic Identification System (AIS) beacons for illegal fishing or oil transportation. SAR's all-weather 24/7 monitoring makes it an incredibly powerful imaging tool for analysts and covers the disadvantages of many geospatial data sources.
SAR can also play a greater role in specific use cases, such as humanitarian assistance and disaster response where cloud coverage delays reliable optical imagery. While SAR data sources are on the rise and have overcome the cost barrier, it does not sound a requiem for optical sensing. "A holistic solution to Earth Observation would include both optical and SAR sensors — they complement each other well. In the not-so-distant future, SAR and optical constellations will be able to communicate with one another to provide customers with intraday tipping and cueing capabilities," says VanMatre.
The demand for optical and SAR imagery has also grown within academia, as it relates to humanitarian endeavors. Several Ivy League universities are analyzing imagery of regions where allegations of genocide have been made and where illegal mining operations have been reported. Universities throughout Africa are utilizing satellite imagery to analyze food security and monitor capacity development projects. There is growing demand from universities in Europe and Latin America for hyperspectral imagery to understand and identify new and novel applications for this emerging Space-based capability.
Another new technology is HawkEye 360's Space-based Radio Frequency (RF) tracking. With a first-of-its-kind commercial satellite constellation to identify, process and geolocate a broad set of RF signals, the company extracts value from this unique data and fuses it with other sources to create powerful analytical products that can solve global challenges. The technology has been gaining traction in maritime domain awareness and spectrum mapping and monitoring, besides Geospatial Intelligence applications.
Imaging spectrometers, which were in the research domain, are now entering the operational arena with GHGSat-C2 satellite launched in June 2016, which is capable of measuring greenhouse gas (CO2 & CH4) emissions from any industrial facility in the world and "Iris" (GHGSat-C1), launched in September 2020. The company plans to have a fleet of ten commercial, high-resolution satellites in orbit by the end of 2022, as part of its mission is to become the global reference for remote sensing of greenhouse gas and other trace gas emissions from any source in the world.
Passive microwave sensing is another range of sensors, which have been used in meteorological observations since long but are now coming in for wider use.
Source: Geospatialworld