Space story beyond Covid-19 (P1)
Despite the global slowdown, investments in the Space industry set a new record in 2020. The Space infrastructure segment garnered $8.9 billion, according to a new report by Space Capital. The total investment in 2020 of $25.6 billion in the Space sector was the third highest in this decade, after 2018 and 2016.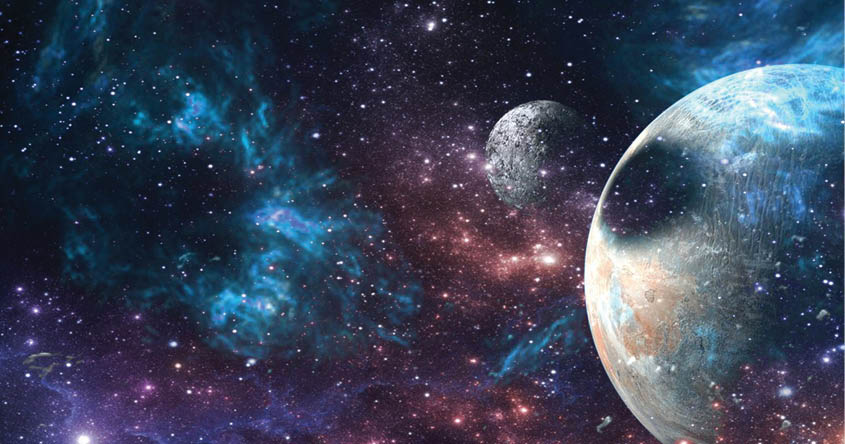 This underlines the value of Space data in an expanding set of applications. Space, today, encompasses Satellites; Earth Observation (EO); Positioning, Navigation and Timing (PNT); and Communications, including the Internet, integrated into the digital revolution that the world is witnessing.
The Space industry, NewSpace companies in particular, are bullish about their prospects as the world prepares for economic recovery. Most industry experts and commentators feel that with new services introduced by satellites and innovative applications, a huge market will open up in both the government and business sectors. Academia too is realigning its courses to absorb these new ideas and innovations.
Integrated Space services
The future belongs to integrated Space services, exemplified by the entrance of two big players, Amazon and Microsoft, in the arena of geospatial systems, services and applications. Both players are well known for their Cloud offerings: Amazon Web Services (AWS) and Microsoft Azure. Both provide services to the Information and Communications Technology (ICT) industry, including geospatial operators.
In June 2020, AWS introduced a new business segment for accelerating innovation in the global aerospace and satellite industry. "Low-latency Internet, high-resolution Earth Observation and ubiquitous Internet of Things communications companies will launch thousands of new satellites over the next five years to provide sensing capabilities to customers around the world. AWS's reliable global infrastructure and unmatched portfolio of Cloud services help organizations process and transform massive collections of data from Space, and then quickly analyze the data to make it actionable, redefining how we research, make decisions and see our world," says Teresa Carson, Vice President of Worldwide Public Sector at Amazon Web Services.
Last September, Microsoft launched Azure Orbital, which enables satellite operators to schedule spacecraft tasking and directly downlinking into their virtual network in Azure Cloud. The data can get processed immediately with geospatial and other analytical tools, Machine Learning and Azure Artificial Intelligence services. Users can also schedule tasks on Microsoft owned and operated ground stations in X, S and UHF band frequencies via shared high gain antennas. Further, Microsoft also directly interconnects its own global network with its partners' ground station networks for easy scheduling.
"The future of Space is beyond an exclusive focus on technology and science, and the sector will play in important role in boosting economic growth and accelerating sustainable development."
According to Yves Pitsch, Principal Program Manager, Azure Networking, "Microsoft is well-positioned to support customer needs in gathering, transporting and processing of geospatial data, with our intelligent Cloud and edge strategy currently extending over 60 announced Cloud regions, advanced analytics and AI capabilities coupled with one of the fastest and most resilient networks in the world."
SpaceX's Rideshare program, which enables the launch of satellite constellations at a very low price of around $1 million for 200kg, came in the beginning of 2021, and will significantly change the face of the Space industry. "We were honored to be a part of history last month when SpaceX launched a record 143 small satellites into orbit, including two of ours, Capella-3 and Capella-4. More smaller players in the industry are getting their shot at Space with more frequent and affordable opportunities to launch satellites," says Payam Banazadeh, CEO & Founder, Capella Space.
Considering the stress on geospatial operations in the Cloud, the move by three companies to launch Low Earth Orbiting satellite constellations to reduce latency and provide connectivity to all subscribers, particularly those in remote areas, is significant. SpaceX was the first one to do so with its Starlink constellation. OneWeb, a British effort, hit a rough patch but recovered, and is on the way to implementing its constellation. The latest is Amazon with Project Kuiper, which has been approved by the US authorities.
Space services during the pandemic
The most important geospatial services in use during the COVID-19 pandemic have been location-based; they depend on Global Navigation Satellite System (GNSS) satellites and augmentation services like Wide Area Augmentation System (WAAS). With lockdowns and restrictions on movement, location has become an essential service for home delivery of goods and services. Personal Covid-tracing services depend heavily on location information, even at the cost of invasion of privacy. Last year, PNT services accounted for 87% of $15.9 million garnered by applications.
"The fusion of multiple geospatial data sources from SAR, EO and RF, along with mobility data, have provided unique insights into macro factors, such as pattern of life, economic mobility and dislocation, and country level output. COVID-19 has taught governments and companies alike that geospatial data can provide unique insights into pre and post-pandemic trends and has the potential to prove invaluable in curbing the spread of future outbreaks, while mitigating economic and societal hardships associated with a global pandemic," says Matt Tirman, Head of Satellogic, North America.
Underlining the value of Earth Observation, Brian O'Toole, CEO, BlackSky, says, "One of the most significant impacts in our industry that has come from the pandemic is the need for increased Earth Observation, especially for our defense and intelligence customers. To help our customers gain COVID-19-related insights, we created a coronavirus dashboard that uses AI to analyze the news and other sources to task satellites to take images of points of interest."
As an example, consider the experience of Devleena Bhattacharji, CEO of Numer8, an Indian startup specializing in satellite- based maritime services: "Covid has provided us a great opportunity to join the missing dots on the business plan we had on paper. Before the pandemic, our work was mostly on using satellite data to address climate resilience for the fishing community. Providing market linkages and financial support was a plan on paper. However, come Covid and we were suddenly recieveing demands of the real world of missing linkages and we found ourselves as enablers of everyday livelihood for the fishing community."
Numer8 was able to reach out to its fisherfolk users in a time of extreme distress and help them. "There were no shortcuts we could take since what we were delivering was being instantly tested against ground realities. User testing could not get any better," explains Bhattacharji, adding that the world has also suddenly opened up to online synergies which were facing resistance earlier.
Source: Geospatialworld