Mapping Our World, Saving Lives with Humanitarian OpenStreetMap Team
Depicting the world and its attributes via mapping has been one of the greatest tools in solving human and environmental problems.
Volunteering with the Humanitarian OpenStreetMap Team
One of the well known benefits of volunteering is impact; impact on the community and the world at large. To volunteer is to transform yourself into a superhero, helping vulnerable communities get the help they need. Volunteering can also bring about unprecedented opportunities, great networks, and skill acquisition.

The Humanitarian OpenStreetMap Team (HOT) is a nonprofit organization dedicated to humanitarian response through open data sharing. There are diverse groups of people in the HOT community who are dedicated to the mission of helping those in need through maps. The volunteers, interns, professionals have contributed to projects focusing on gender, transportation, disaster response, disaster risk reduction, clean energy, etc. all over the world – contributing to the achievement of sustainable development goals.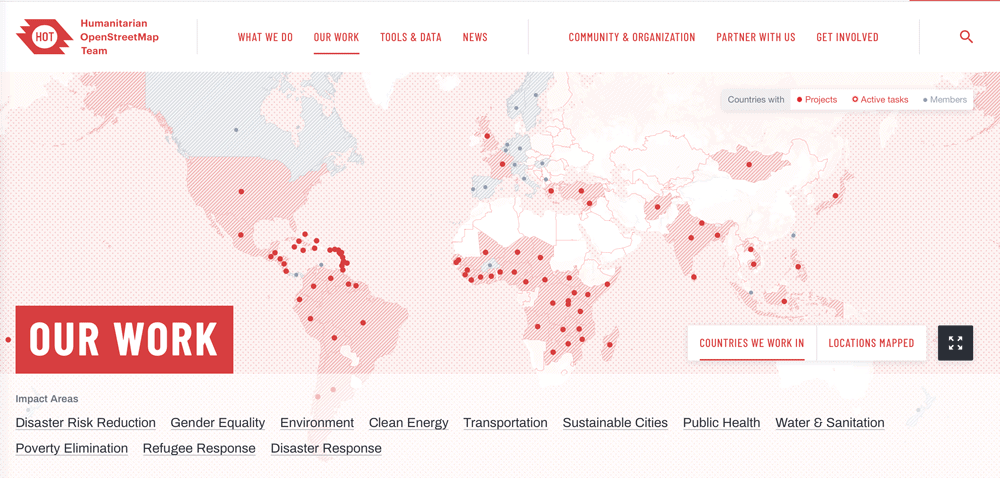 There are different ways to volunteer time with HOT – mapping, validating, creating maps, or building open source mapping tools.

Mapping Volunteers
Mapping volunteers are HOT's largest volunteer need and they contribute to humanitarian projects by mapping using the OpenStreetMap(OSM) platform. The first step to get started as a mapping volunteer is to sign up on the OpenStreetMap platform, then proceed to learning how to map using free tutorials, reading resources, or joining an online mapathon session, such as the OSM Africa Monthly Mapathon. Mapping your locality and house is a good way to get started.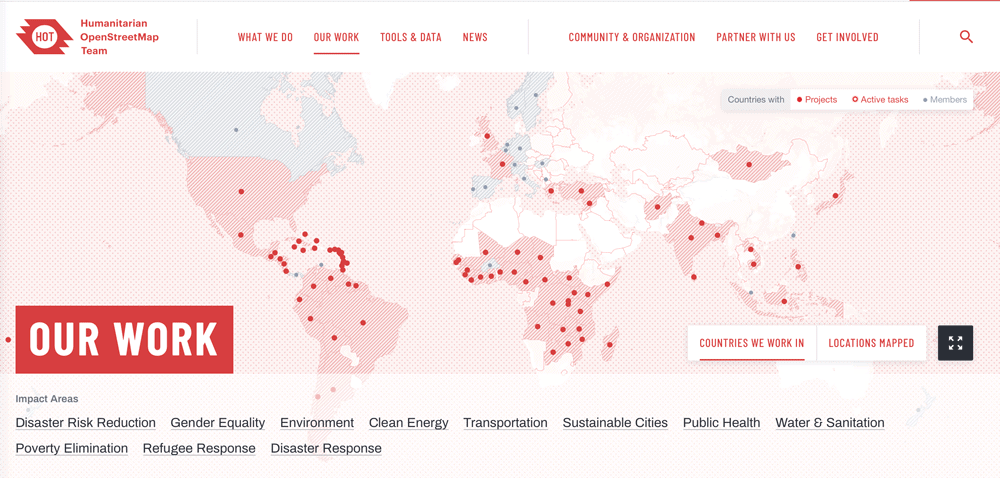 There are different ways to volunteer time with HOT – mapping, validating, creating maps, or building open source mapping tools.
Starting a Local Community
In Africa, the HOT community has participation from about 20 countries out of the 54 countries with efforts and strategies set to get active contributors in the other 34 countries, and also get to utilize the data in responding to their local needs. With HOT's audacious project, more engagement with local communities is expected to happen in regions, including East and West Africa.
If you are certain no local community exists in your country, you can get started with a meetup, organizing a team and starting a project that would enable you to harness the OSM tools. Mapping is interesting when done as a community or in a group, in the form of a mapathon or mapping party, as it prevents lone participation.
To attract more resources or fund any local community project, HOT has a community microgrant program. This program has helped local communities, especially in developing countries, to implement their mapping activities, train mappers, and respond efficiently to their local needs. Local communities including OSM Kenya, OSM DRC, Resilience Mappers from Uganda, iLab Liberia etc have all benefited from this program.
YouthMappers Community
Engaging university students is also a good way to champion the humanitarian course in a country or locality. Youthmappers initiative is a subset of OSM, bringing university students together to participate in mapping. The initiative is made up of over 100 chapters across several universities worldwide.
There are lots of opportunities attached to being a youthmapper member including research fellowship, leadership fellowship, and fieldwork program. Becoming a member of a youthmapper in your university can also help you gain skills and network. If no chapter exists at your university, apply to join.
Accessing and Using OSM Data
There are several ways to access OSM data freely for planning and decision making. Geofabrik allows download of derived OSM data, organized by region, for free. The QUICKOSM plugin on QGIS can also help with accessing OSM data that meets your request. OSM implements GIS tools in its activities, hence as a GIS beginner or enthusiast, this is a good way to get started with GIS. The OSM data can be depicted, interpreted and visualized using GIS software.
The future of volunteering cannot be underestimated. As volunteering is going digital more people are encouraged to participate.
Source: Gislounge