How GIS is enabling the agricultural sector
GIS in agriculture is not a new phenomenon anymore. The agricultural sector is the mainstay of the rural Indian economy around which socio-economic privileges and deprivations revolve, and any change in its structure is likely to have a corresponding impact on the existing pattern of social equality. No strategy of economic reform can succeed without sustained and broad-based agricultural development, which is critical for raising living standards, alleviating poverty, assuring food security, generating a buoyant market for expansion of industry and services and making a substantial contribution to the national economic growth.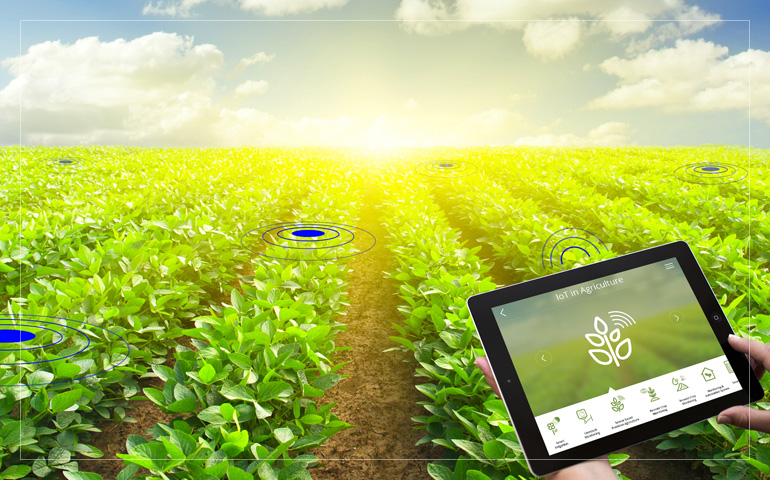 The future growth in agriculture must come from new technologies which are not only cost-effective but also in conformity with natural climatic regime of the country; technologies relevant to rain-fed areas specifically; continued genetic improvements for better seeds and yields; data improvements for better research, better results, and sustainable planning; bridging the gap between knowledge and practice; and judicious land use resource surveys, efficient management practices and sustainable use of natural resources.
Sustainable agricultural production depends on the judicious use of natural resources (soil, water, livestock, plant genetic, fisheries, forest, climate, rainfall, and topography) in an acceptable technology management under the prevailing socio-economic infrastructure. Technology plays an important role in the rapid economic growth and social transformation in developing countries.
Agricultural mapping
Technological innovations and geospatial technology help in creating a dynamic and competitive agriculture which is protective of the environment and capable of providing excellent nutrition to the people. While natural inputs in farming cannot be controlled, they can be better understood and managed with GIS applications. GIS can substantially help in effective crop yield estimates, soil amendment analyses and erosion identification and remediation. More accurate and reliable crop estimates help reduce uncertainty.
A central issue in agricultural development is the necessity to increase productivity, employment, and income of poor segments of the agricultural population, and by applying GIS in agriculture, this situation can be addressed. GIS tools and online web resources are helping farmers to conduct crop forecasting and manage their agriculture production by utilizing multispectral imagery collected by satellites. The ability of GIS to analyze and visualize agricultural environments and workflows has proven to be very beneficial to those involved in the farming industry. GIS has the capability to analyze soil data and determine which crops should be planted where and how to maintain soil nutrition so that the plants are best benefitted.
GIS in agriculture helps farmers to achieve increased production and reduced costs by enabling better management of land resources. The risk of marginalization and vulnerability of small and marginal farmers, who constitute about 85% of farmers globally, also gets reduced.
Agricultural Geographic Information Systems using Geomatics Technology enable the farmers to map and project current and future fluctuations in precipitation, temperature, crop output etc.
Agricultural mapping is day by day becoming crucial for monitoring and management of soil and irrigation of farmlands. It is facilitating agricultural development and rural development. Accurate mapping of geographic and geologic features of farmlands is enabling scientists and farmers to create more effective and efficient farming techniques. As farmers are able to take more corrective actions in the form of better utilization of fertilizers, treating pest and weed infestations, protecting the natural resources etc., we are bestowed with more and higher quality food production.
Smart farming
Sensors in fields, on tractors and on satellites high above farms are constantly collecting data. Advanced technologies are able to turn this data into information that farmers and land managers can use to make more informed and timely decisions. This, in turn, boosts productivity and reduces environmental impacts.
Farming is getting smarter with the availability of advanced technologies like precision equipment, the Internet of Things (IoT), sensors and actuators, geo-positioning systems, Big Data, Unmanned Aerial Vehicles, robotics etc.
A concept in agriculture that is gaining wide popularity due to the plethora of benefits it offers is that of precision agriculture. It enables farmers to collect timely geospatial information on soil-plant requirements and prescribe and apply site-specific treatments to increase agricultural production and protect the environment. Precision agriculture is tied up with high technology tools that are more accurate, cost-effective and user-friendly. Global Market Insights has launched a market report recently, according to which by 2024, the world's precision farming market size will reach $10 billion by 2024.
As the agricultural sector opens its arms to embrace new technologies, in times to come, we hope to see every platter to be filled with more nutritious food.
Source: Geospatialworld